 Georgetown University Pre-College Online Program
Explore Your Intellectual Passions Before College
At Georgetown, we believe that you're more than a mind. You're an individual with unique talents, dreams, and passions. Our long-held Jesuit tradition of cura personalis means "care for the whole person," and our goal in creating these new online courses is to provide a holistic experience for you. As an individual with unique talents, dreams and passions, you deserve the opportunity to develop and refine what makes you you. If you are intrigued by a certain subject and would like to explore it in-depth before college, here is your chance. Georgetown University now offers pre-college online courses for high school students ages 13 and older. Each features dynamic video lessons by renowned Georgetown faculty and access to mentors. The program is available year-round, and the online format enables you to study anywhere, anytime, at your own pace.
Program Dates
Multi-length courses available throughout the year
Eligibility
For students ages 13 and up
Current Courses Available
Hear From Our Students
"This course is a great way to get out of your comfort zone and learn something new. At a regular high school, you learn the basic universal curriculum. Through a course like this, you can dive into a specific topic that interests you and think about your future. It is asynchronous so it doesn't interfere with other commitments you may have, and the mentors/other students are so friendly. It is a great opportunity for a high schooler to grow, educate, and pique their interests."
Lauren, Georgetown Pre-College Online student from N.Y.
How You Will Benefit
Online courses are available throughout the year—pick a subject that fits your passion and your schedule.
Suitable for high school students ages 13 and up so you can start exploring your interests early on.
Experience what it's like to take a course designed by Georgetown University faculty while you're still in high school.
Flexible learning: lectures by professors are delivered through dynamic videos, so you can tune in whenever your schedule allows—the ultimate in flexibility.
Work with mentors who can support you and answer questions as you deepen your learning experience.
Earn a Certificate of Completion from Georgetown University for your college application.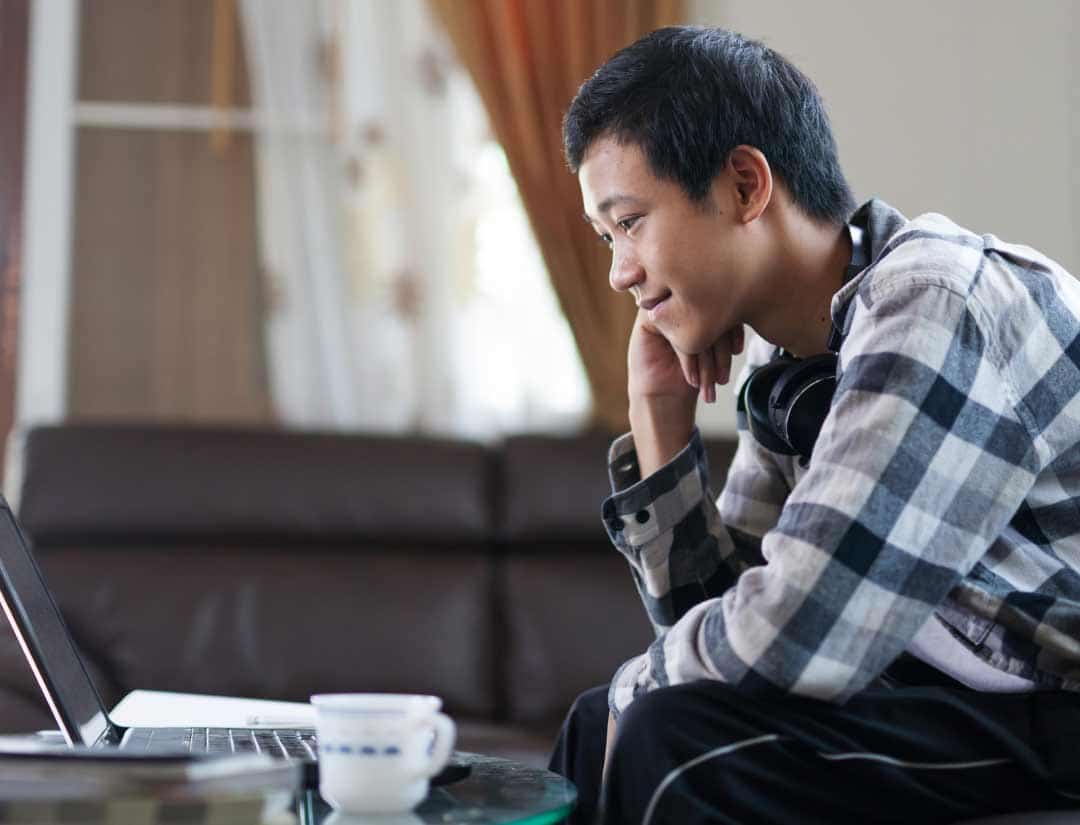 Three Learning Advantages Designed for You
Final Capstone Project
All online courses culminate in a special Final Capstone Project that allows you to:
Demonstrate what you've learned in a presentation.
Get feedback from your mentors on your work.
Choose from a variety of topics covered in your course to show what you've learned. 
Use any media you prefer—text, video, photography, PowerPoint.
Mentoring
You'll receive guidance from a mentor who can support you and answer questions as you deepen your learning experience. You can expect:
Encouragement and direction on all assignments. 
Inspiration, motivation and confidence to help you excel in your studies. 
Brainstorming to help you prepare for your Final Capstone Project.
Flexible Learning
100% online learning that works with your schedule.
Flexible format: you'll learn through video lectures. Tune in anytime that works for you.
20 to 30 hours of total instruction and course work, including engaging multimedia, simulations, and curated assignments for which you will receive guidance and support from mentors.
How to Apply
It's easy. No transcripts or letters of recommendation are required. Our application will require the following:
Basic contact information for you and your parent or guardian
Why you wish to take this course, and a bit of your story, through writing, video, photos—any media you prefer.
Note: Please submit all application materials in English.
Begin the guided application process. It should take only a few minutes of your time to answer the questions.
Begin the application process
Want to Know More?
Sign up for more information and we'll be in touch.
Admissions
Our application process is easy. You can expect a prompt decision.
Start Application
Scholarships
We offer need-based scholarships in each cohort to students exhibiting high potential and an inability to pay full tuition. If you would like to be considered for a scholarship but you: