Begin Your Medical Research Journey
Every vaccine, drug, and treatment used in medicine is the result of evidence-based research. For a cancer therapy to succeed, medical researchers have to ask a question. Will it work? In this course you will learn the process researchers use to formulate, conduct, and evaluate the evidence they gather. You will be tasked with developing your own study using professional methods. For any high schooler thinking about a future in STEM, medical research, pharmaceuticals or medical school, this course is for you.
Choose the course length that works for you: 1-week intensives, 2-week sessions, and 4-week sessions
Eligibility
For students ages 13 and up
Learn How Medical Research Gives Birth to Groundbreaking Treatments
Introduce Yourself to Clinical Research.
Why is clinical research critical to medicine? Discover a clinical trial's process. Familiarize yourself with how a study is organized, and how to navigate online research databases.
Learn the Steps of Evidence-Based Medicine (EBM).
Explore the principles of EBM. Discover how EBM is applied to diagnoses. Study the EBM process and how to create a research question using the PICO method.
Consider the Ethical Considerations of Medical Research.
Compare and contrast ethical versus unethical research practices through case studies. Learn the basics of biostatistics and epidemiology. Create an outline for your own medical research question.
Learn How to Turn Your Research Study Into a Scientific Article.
Study medical journal articles. Understand a research article's components and how to interpret it. Review how they affect innovations in medicine. Start thinking about your research question.
Delve Into Medical Research In Cancer.
Describe types and common causes of cancer. Discover how medical research has impacted cancer prevention, diagnostic advances, and how EBM is used to improve patient outcomes.
Explore College Majors and Future Careers.
Topics covered in this course offer a good background for potential college majors and career paths related to medical research, pharmacology, biostatistics, and the sciences.
How You Will Benefit
You will comprehend the key elements of medical research.
You will be able to define and discuss evidence-based medicine (EBM).
You will understand the ethics and integrity essential to clinical research.
You will gain insights into basic biostatistics and epidemiology and their role in medical research.
You will learn how clinical trials drive innovations in healthcare.
You will be able to assess if medical research is a field you might like to study in college and beyond.
Three Learning Advantages Designed for You
Final Capstone Project — Cancer Research
The course culminates with a special Capstone Project where you will create a video presentation showing the components of the scientific method for clinical trials. You will:
Use 2-3 research papers of your choosing around topics such as cancer research, prevention, screening, diagnosis, therapy survivorship/quality of life.
Demonstrate what you've learned in this course.
Get feedback from your mentors on your work.
Mentoring
You'll receive guidance from a mentor who can support you and answer questions as you deepen your learning experience. You can expect:
Encouragement and direction on all assignments.
Inspiration, motivation and confidence to help you succeed.
Brainstorming and ideation help as you prepare for your Final Capstone Project.
Flexible Learning
100% online learning that works with your schedule.
Flexible format: you'll learn through video lectures. Tune in anytime that works for you.
20 to 30 hours of total instruction and course work, including engaging multimedia, simulations, and curated assignments for which you will receive guidance and support from mentors.
Apply Now for the Next Available Course
October 1 - October 29
Medical Research: Clinical Trials Resulting in Medical Discoveries
Length: 4 weeks
Cost: $1495
Application Deadline: Sunday, September 24, 2023
November 5 - December 3
Medical Research: Clinical Trials Resulting in Medical Discoveries
Length: 4 weeks
Cost: $1495
Application Deadline: Sunday, October 29, 2023
December 17 - December 31
Medical Research: Clinical Trials Resulting in Medical Discoveries
Length: 2 weeks
Cost: $1495
Application Deadline: Sunday, December 10, 2023
Hear From Georgetown University
What Our Students Are Saying
"I would recommend this course, especially as a freshman in high school because this was a once-in-a-lifetime experience, and I was able to expand my knowledge and understanding of the world of medicine just in two weeks. I was able to learn how patient-doctor interaction is just as important as working in the lab. I was informed about clinical research and even the FDA. I also discovered there is a role to determine whether something is moral or not in the world of medicine. This was such an amazing turning point for me!"
Mane, medical research student from Calif.
"I would highly recommend this course as it gives an extensive and clear overview of the medical research community. It explores career paths, how to conduct research, and the impact medical research has on the advancements of medicine."
Noelle, medical research student from N.J.
Course Designed by Georgetown University Faculty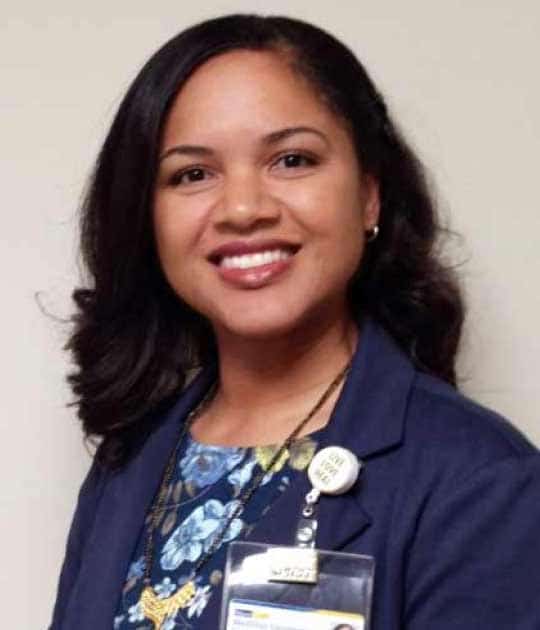 Dr. Malika Danner, MD
Academic Director and Curriculum Developer, Georgetown University School of Continuing Studies, MedStar Georgetown University Hospital
Dr. Danner has an extensive background in teaching, biomedical research and applied clinical knowledge. She has spent over 15 years teaching health and science and served as an instructor for the U.S. Department of Education's Upward Bound/TRIO summer programs. Dr. Danner received a Master's Degree in Microbiology and Immunology from Georgetown University in 2002. She subsequently worked for the Lombardi Comprehensive Cancer Center where she co-authored many publications in peer-reviewed journals for cancer research. In 2013, she earned a Doctorate of Medicine from Ross University School of Medicine in Dominica, WI. Dr. Danner currently works for MedStar Georgetown University Hospital, Department of Radiation Oncology, where she leads clinical studies assessing Patient-Reported Outcomes of patients undergoing cancer treatment.
Meet Your Mentors
Aparna
Undergraduate student at Georgetown University majoring in Neurobiology. Currently works in a lab with Professor Cervantes-Sandoval in order to create a novel model for Chronic Traumatic Encephalopathy in fruit flies.
Kayla
Received a B.S. in Biology of Global Health and minor in Statistics from Georgetown University. Former Vice President of Georgetown University Minority Association of Pre-Health Students (GUMAPS).
Madison
Received a B.S. in Biology of Global Health and a minor in Psychology from Georgetown University.
Yaxeni
Received a B.S. in Global Health with a minor in Women's and Gender Studies from Georgetown University.
How to Apply
It's easy. No transcripts or letters of recommendation are required. Our application asks you to provide the following:
Basic contact information for you and your parent or guardian.
Why you wish to take this course, and a bit of your story, through writing, video, photos—any media you prefer.
Begin the guided process. It should take only a few minutes to answer the questions.
Begin the process
Want to Know More?
Sign up for more information and we'll be in touch.
Admissions
Our application process is easy. You can expect a prompt decision.
Start Application
Scholarships
We offer need-based scholarships in each cohort to students exhibiting high potential and an inability to pay full tuition. If you would like to be considered for a scholarship but you:
The University reserves the right to modify the course as may become necessary.